Selling a House As Is Los Angeles | No Repairs or Cleaning Necessary
Our first goal is to ensure that we are the best match for you and your scenario.
Real estate professionals from DirectPads can sell a house as is in Los Angeles for you, with independently reviewed buyers you'll be confident selling to.
Los Angeles is not short of fun activities to do. Known as the "City of Angels," LA is the hub for beach lovers and hiking enthusiasts. It's also one of the top ten cities to live in the US, with a bustling real estate scene. Many Angeleans may not like the increased traffic, but it is understandable due to its proximity to multi-cultural hubs, restaurants, pubs, and museums. If you have an eye for real estate and are keen on selling a house as-is, Los Angeles is a good launchpad for your property to be purchased.
Selling a house as-is in Los Angeles has become an idea that some homeowners have entertained. This option allows you to sell your home to buyers without upgrading or spending on repairs. All potential sellers should decide based on their specific circumstances, but many homeowners are choosing to sell their homes as-is because of the convenience.
Here is some information to be aware of if you want to sell a home without making repairs and renovations prior.
What Are The Benefits of Selling A House As-Is?
After you have owned a home for several years, some underlying issues tend to pile up. Leaking pipes, roof problems, and other concerns can delay a traditional sale. If you need to sell your home fast, selling it as-is is an effective option.
You can get a fair price for your non-commercial property even without going through a lengthy repair and inspection process. One of the biggest advantages to selling single-family homes as-is is that you can save time and money that would otherwise be spent on inspections, repairs, and red tape.
When selling traditionally, you'll need to deal with lenders who require certain repairs before they fund a purchase. At DirectPads, our selling process skips the repair part.
When working with a traditional listing agent, you'll often receive a list of extensive repairs you need to make before they can sell the home. However, virtually selling a house as-is frees you from the obligation to make major repairs that could take up significant time and money.
Instead, DirectPads keep any interested buyer informed of such information as plumbing issues or broken railings, in addition to positives like lot size and proximity to freeways. Instead of inspecting the Heating, Ventilation, and Air Conditioning (HVAC) system and other features in your home, we can focus on selling your home as quickly as possible according to the listing data.
We make sure that the information provided to buyers is up-to-date so they can make informed decisions, which is why we are deemed reliable by buyers across the country. DirectPads take pride in ensuring digital accessibility for all of our clients.
Overall, it's a faster process and it takes less time before you can close the deal. Our real estate professional team can identify prospective properties, provides logistical support, and ensure your home sells as quickly as possible.
How Can You List Your Home As-Is Online?
At DirectPads, we make it easy to list your home as-is on our website. Before we create a listing or attempt to sell homes, we review prospective properties and come up with a cash offer for the home.
We offer market prices on each house, but sellers should know that they are under no obligation to sell to us. We then list the property at market price, where we will serve as your listing broker. Rest assured, you will be dealing with professionals that have up to date real estate licenses.
Signing a contract with DirectPads means that we'll send a representative to do a personal inspection. They will independently verify the features and square footage listed in your description and shown in your photos.
Our house buying team continuously works on ways to help our clients get the best possible prices by promoting your property listing on Multiple Listing Services (MLS). We strive to give both buyers and sellers a positive online experience, which is part of how we have established ourselves as a reliable real estate company.
Choosing The Right Platform
When you work with DirectPads, you get assistance from a professional real estate agent without needing to worry about extensive commission fees. Los Angeles, California homes are in high demand, so why not work with expert realtors to get excellent prices? Shoot us a message today to request more information about selling properties as-is in southern California!
DirectPads is one of the simplest ways to sell your home!
Our contemporary approach is centered on one thing, that is you! We take a personal, hands-on approach to home buying and selling, even making it enjoyable.
We're shaking up the real estate market by providing an amazing customer experience for on-demand buyers and sellers. We have a living room understanding of the people who live in those homes and we use our experience to help you buy houses in Orange and sell a home in the most efficient way possible.
Here's how it works:
Step 1
Download the DirectPads app and enter the address of your property.
Step 2
Upload videos and photos of your property, then use the app's video calling feature to give a real estate agent a virtual tour.
Step 3
Chat with one of our real estate agents on the app and respond to a few questions about your home. Tell us a little about your home and answer a few questions for us, including what you are looking for in a cash offer. It only takes a few minutes.
Step 4
A real estate agent will send you a fair all-cash offer on your Orange County house and an additional listing fair all-cash offer for your property, and you can decide which is best for you.
Download the app
---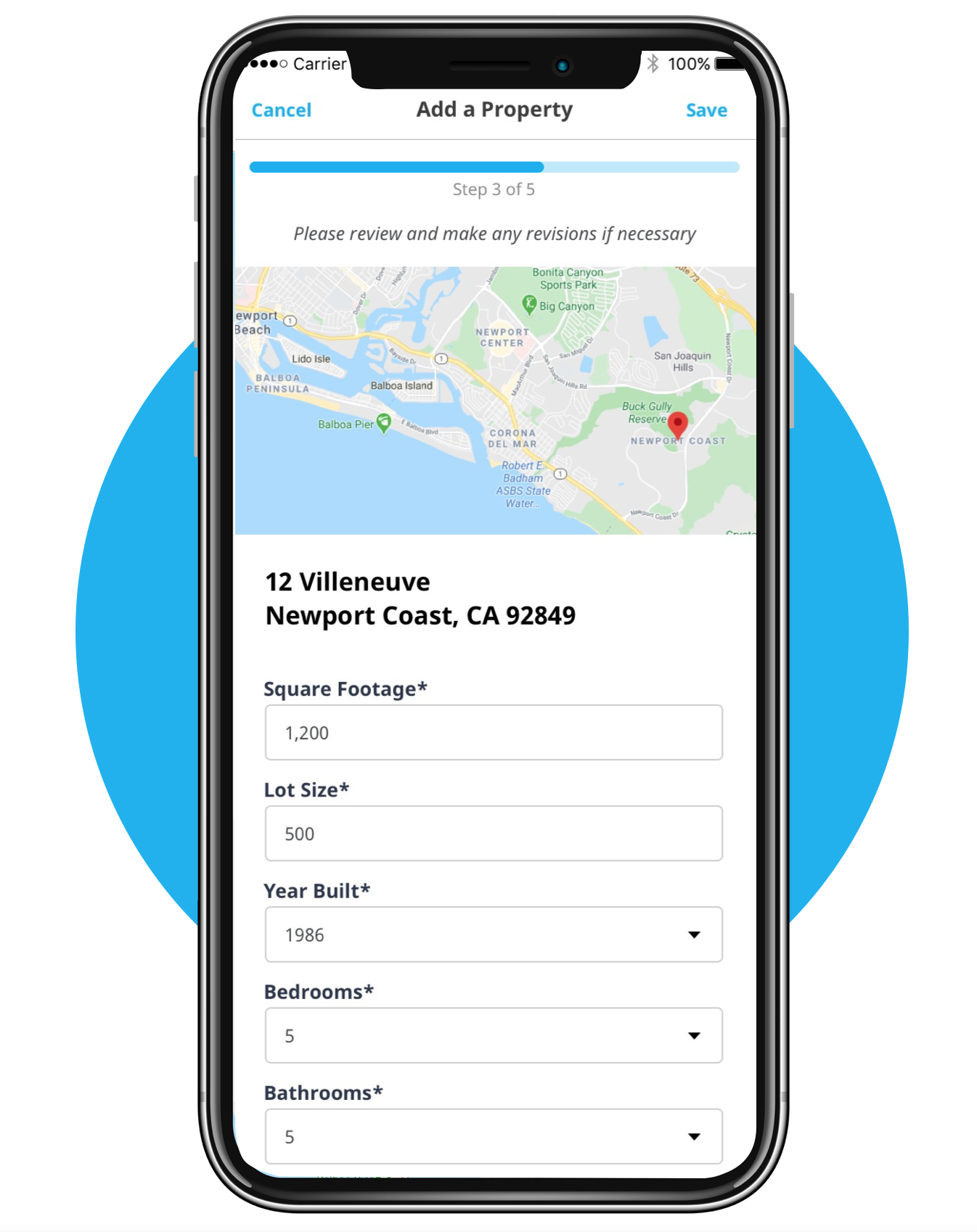 It's really that simple!
If you decline the cash offer—no problem, we'll list your home for you at a discount using our market-based pricing.
Why DirectPads?
Here's why: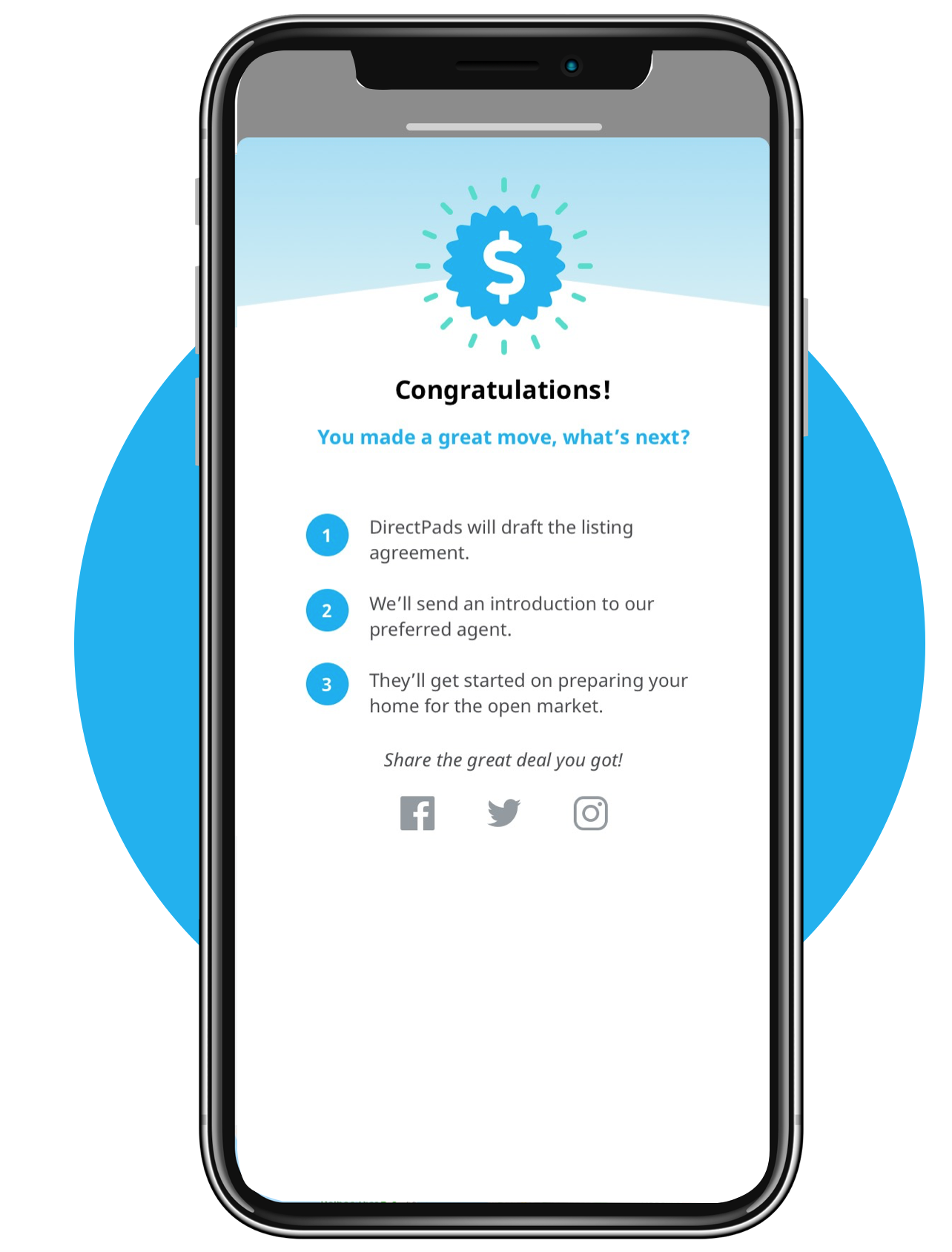 Want to Test the Market? List with Us! It's much Cheaper Here.
Listing with us means excellent service and saving money using our market-based pricing. The DirectPads advantage includes:
Free professional photos.
We'll take care of minor repairs to ensure the home is show-ready.
If your home sells quicker than expected, then we discount our fees even more.
Discounted escrow fees, and so much more.
Frequently Asked Questions
Are there really no showings?
There are no public showings. Our initial contact is directly within our app through a video call. Once we come to an agreement—we'll have our inspector visit the property along with one of our DirectPads specialists to finalize the transaction.
What about closing timeline?
You choose when you'd like to close. We offer plenty of flexible solutions that are designed to accommodate you, the seller. If you want to close within a week or even a few months, we'll make it work.
Are there really no repairs?
With no lender requirements and no appraisals, no repairs are required.
Get Started With Us Today
For years, millions of Orange County home buyers have trusted DirectPads to help them sell their Orange County house and get the cash offer they deserve.
DirectPads provides a comprehensive list of properties for sale, as well as the information and tools needed to make smart real estate decisions. We are the number one choice to sell your house now more than ever.
We have served many sellers looking for a cash offer on their Orange County home as a trustworthy real estate investment company. We've gotten to know each and every homeowner, personalized our services to their specific needs, and assisted them in selling their home quickly and successfully.
Find out what choices you have to sell your house. Contact us today to see how we can assist you!
It's a matter of time until all sales are done this way.

Homeowner

Covid was some scary times. The fact that the entire sale was done through an app was nuts and increidble.

Homeowner

It was an easy experience. The tech is awesome. No one calling or texting me directly.

Homeowner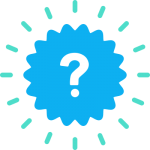 Contact us today
No obligation. Sell on your time. No hassle.